Accelerate your Digital Transformation
with an Enterprise Ireland Digitalisation Voucher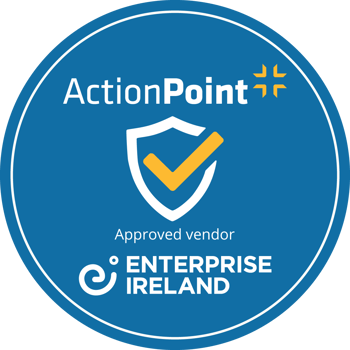 Are you looking to accelerate your Digital Transformation efforts? Or are you starting out and looking for some guidance on crafting your Digital Transformation Strategy?

Enterprise Ireland have recently launched their Digitalisation Voucher, providing an exciting funding opportunity for businesses on their digital journey.
The objective of the Digitalisation Voucher is to help companies prepare a plan for the adoption of digital tools and techniques across the business to remain competitive, including:
Process Optimisation

Digital Customer Experience

Data Management
The value of the voucher is €9,000 and is open to both EI client companies and other non-EI client companies who meet certain criteria.*
ActionPoint is an Enterprise Ireland Digitalisation Voucher Approved Vendor. The online application process is very easy and should not take more than 15 minutes of your time. We will be happy to assist you with the application.

Whether you are new to Digital Transformation or you are well on your journey, the EI Digitialisation Voucher combined with ActionPoint's industry-leading Digital Transformation Assessment service, represents the ideal opportunity to accelerate your organisation's Digital Transformation Journey.
Learn More about ActionPoint's Digital Transformation services, here.
We are happy to help you with the application process. Fill in the form below and a member of our team will be in touch.
*For companies with 10 or more full time employees operating within the manufacturing and internationally traded service sectors. See here for more information.